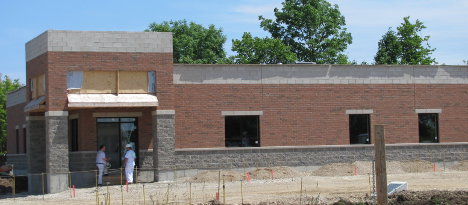 Meaford's new medical centre is on time and on budget, but the support of Meaford residents is still needed, and organizers have found some unique ways for you to offer your support.
"We are still actively fundraising and to that end we are having a Wildlife Print Sale at Meaford's newest restaurant, George's On Main. The prints are all signed limited editions by local Ontario artists and are hung in Chef Steve's new restaurant across from Meaford Hall," said organizers.
All prints are $50 each, cash or cheque made out to NEGHC (North East Grey Health Clinics), and have been donated by the Military Family Resource Centre.
The proceeds will go towards the new Don Bumstead and Family Medical Centre which will have its grand opening on Sunday September 21 at 1 p.m.
If you don't have a need for wall art, your ears might prefer to take in a concert at Meaford Hall in support of the Don Bumstead & Family Medical Centre.
On Saturday September 20, ragtime pianist Bob Milne will perform at the hall.
"Bob Milne is considered the best ragtime/boogie-woogie pianist in the world. Declared a "National Treasure" by the US Library of Congress, Bob has been playing in concert halls worldwide since 1991. He delights audiences with his piano-playing pyrotechnics and his infectious enthusiasm for the music and the history behind the music. Founder and director of the Frankenmuth Ragtime Festival in Michigan USA, Bob has appeared at many music festivals including The Scott Joplin Ragtime Festival and the Montreal Jazz Festival," said organizers.
Tickets for the show cost $50, and include a $25 charitable tax receipt. Tickets can be purchased at the Meaford Hall Box Office, or by visiting the Meaford Hall website – www.meafordhall.ca