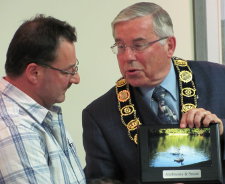 The swans at Meaford's Lakeview Cemetery have officially been named.
In April the municipality announced a contest seeking names for the two swans who reside at the cemetery, and the winning entry will see the swans named "Ambrosia" and "Snow".
Those were the names submitted by Meaford residents Brad Johnston and Marianne Ribey. Johnston attended the July 28 meeting of council for the announcement of the names, and he was presented with a plaque that included a photo of the swans with their names engraved.
"You really don't think that I did the naming of the swans, do you?" joked Johnston after being presented with the plaque from Mayor Francis Richardson. "I must say it was Marianne, and I am here on her behalf."
Johnston, owner of Meaford's Barbetta Orchards, said that the names were inspired by two local apple varieties. He also said that he and Marianne have decided to donate the plaque to the soon-to-be completed medical clinic on Highway 26.