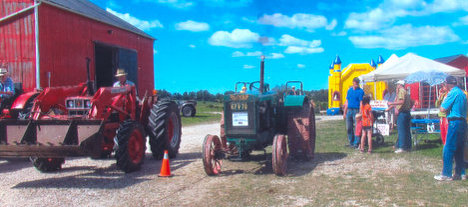 Antique tractor enthusiasts will flock to the Reiners' Farm on Grey County Road 12, south of Grey Road 40 on August 9 for the Mervin Lush Memorial Antique Tractor Show and Harvest Celebration.
The event will feature more than 40 tractors, a pancake breakfast at 8 am, tractor, log sawing and textile making demonstrations, live entertainment, wagon rides, a pie baking contest, and much more.
When the energy from the pancake breakfast begins to fade, fear not as a barbeque sponsored by Johnson and Robertson Financial Services will begin at 11 am.
For the little ones there will be face painting, a bouncy castle, crafts, animals and more.
Admission by donation to the Bighead River Foodgrains Project. All proceeds to feed hungry people throughout the world.