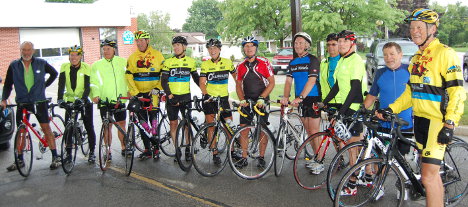 The Meaford Hospital Foundation has had a busy summer. After another successful Harbour Run/Walk/Stroll event earlier this month that raised approximately $35,000, the Foundation has found new support, and have recognized a long-standing donor.
On July 15, Collingwood resident Sid Dickinson biked into Meaford as part of his cross-country cycle tour aimed at raising money for both the Meaford and Collingwood hospitals. Dickinson left Vancouver on June 4.
Dickinson's initiative has been helped along by the Georgian Bay Club who have assisted with promotion and other logistical tasks associated with the fundraiser.
To donate to Sid's ride, please visit www.georgianbayclub.com and click on C2C Ride.
The following week, the Hospital Foundation announced a $1,450 donation from Bill's Valu-mart. The local grocer raised the funds with their annual Give a Little, Help a Lot campaign.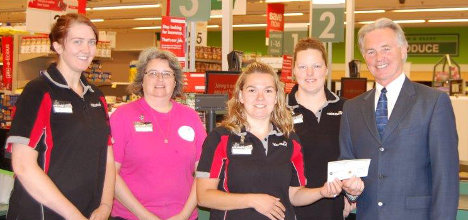 In the photo, from left to right:
Shelly Rowe, Melissa Kruizenga, Teresa Plater, Lisa Greve - Bill's valu mart cashiers; Brian Renken, President Meaford Hospital Foundation.
And while the focus of the Hospital Foundation is raising funds to help support Meaford's hospital, they also recognize long-standing support as they did last week with a special presentation that saw the Ambulatory Care Room designated in honour of Meaford's Apple Harvest Craft Show which has donated more than $165,000 to the Hospital Foundation over the years, and more than $800,000 to various community initiatives that have benefited many in the community.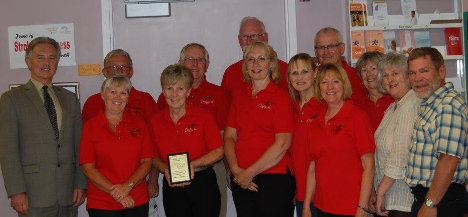 In the photo, left to right:
Brian Renken, President Meaford Hospital Foundation; Apple Harvest Craft Show committee members - Jennifer Pearson, Betty Jane Brebner, Kathy Adams, Mary Hardie, Anita Hunter; Maureen Strickland, Hospital Foundation Donor Recognition Committee; Kevin Knight, Past President Meaford Hospital Foundation.
Back Row: AHCS Committee - Bill Pearson, Rod Brebner, Dennis Freeborn, Dave Hardie, Kay Freeborn.
Over the past six years the Foundation has contributed between $300,000 and $400,000 per year to the Hospital for medical equipment.