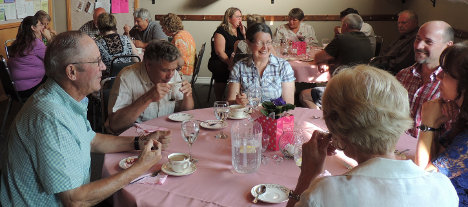 Churches are well known for their fund-raising dinners, but on Sunday evening, July 20th, Olivet Baptist Church surprised many by inviting local parents to a free roast beef dinner (and dessert too) with no strings attached.
There was no message, and no request for money. Everyone simply had a great time. Thirty eight people responded to the invitation and enjoyed a pleasant evening to the accompaniment of live background piano music by Blaine Sack.
Why did the church do this? In Pastor Bruce Jones' words "Olivet is well known for its outreach to children and teens, but this evening represents the start of ongoing outreach ministry to adults." A response card was given to each guest to complete, requesting feedback on how the church can better serve the adult community of Meaford in such areas as: Parenting seminars; Financial seminars (how to budget, get out of debt etc.); Marriage enrichment; Healthy living and so on.