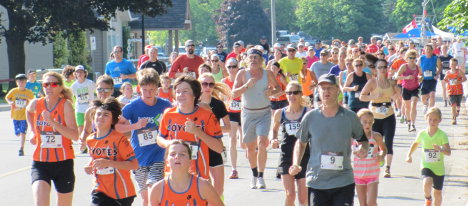 More than 300 participants took to the streets that hug Meaford's harbour area on July 12 in support of the Meaford Hospital Foundation's annual Run/Walk/Stroll fundraising event.
This year's top fundraising group was the Sassy Scarecrows, who raised nearly $3,000 for the cause. Other top fundraisers were Kevin Knight, Cathy Walsh, Bruce Roberston, and Caroline Pedlar, all of whom raised between $600 and $1,000 each.
While final numbers weren't available at the time of publication, early indications are that it was another banner year for the popular event.
"We don't have exact totals yet as we don't have all the bills in yet. I anticipate that we should be able to donate $35,000 to the Meaford Hospital Foundation toward the Cancer Care Campaign," Brian Renken, President of the Meaford Hospital Foundation, told The Independent.
While the focus of this event is to raise money for the Meaford Hospital Foundation, there is also of course the competitive aspect of the event.
Of the more than 300 participants who ran the course, Steven Nadjiwan of Wiarton posted the fastest time at 16 minutes, while Meaford's Hannah Woodhouse was the top female finisher in a time of 17 minutes and 30 seconds. Both of the top finishers are members of Meaford's Coyotes running club.
For more photos and the list of the top 20 finishers in both the walk and run events, pick up a copy of this week's print edition of The Meaford Independent.