Details

Published: Monday, 01 December 2014 14:15
Written by By Stephen Vance, Staff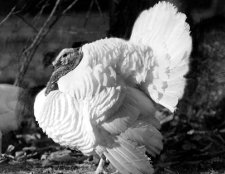 With the month of December underway, many are now focused on the upcoming holiday season. Lists are being written, gifts are being purchased and wrapped, and homes and businesses begin to sparkle with seasonal decorations.
One of the decisions many families make each year is what to prepare for those special family dinners that are just a few weeks away. Meaford's Cirrus Hill Farm has some options that you might not have considered – Heritage birds.