Details

Published: Friday, 09 January 2015 10:50
Written by By Judith Glover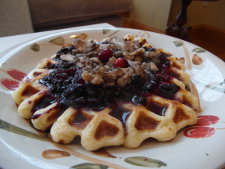 The holidays always bring lots of family and friends together and that means we often have overnight guests visiting us. Our usual breakfast of cereal, toast or fruit and yogurt is replaced with brunch decadence. One of the brunches we indulged in was requested from my visiting son, the other a totally impromptu New Year's Day nosh. After much eating and being merry, we are all 'fooded' out and it's time to go back to simpler and more nutritious meals (at least meals that are not as bad for us – and as much as we all love bacon… back to fruit and yogurt for breakfast!) Tonight we will have a salad for dinner.