Details

Published: Saturday, 04 April 2015 10:57
Written by By Stephen Vance, Staff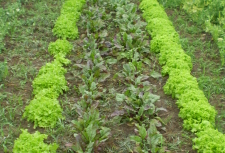 Members of the Meaford Community Gardens organization have partnered with other community members to establish a community polyculture orchard on the outskirts of the urban area of Meaford on a property donated by the Shepstone family. Work gets underway this spring on what will be called the 'St. Vincent Centre for Organic Farming'.
"To start, edible nut and fruit trees will be planted on a one acre plot, interspersed with berry bushes and other perennial plants. Heritage varieties of edible fruit and nut trees, which are disease-resistant, will be selected and established," explained Jaden Calvert of the Meaford Community Gardens.