Details

Published: Tuesday, 04 March 2014 09:49
Written by Staff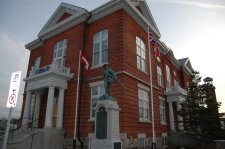 When an egotistical, arrogant prince unkindly turns an old woman from his castle door on a dark and stormy night, he is taught a lesson in caring more about others than for himself. For his rudeness, the old woman magically transforms him into a "Horrible, Nasty Beast!" who is forced to hide in his castle, away from humanity, and care for an enchanted rose. Do you know what happens next?
This March Break, introduce your favourite youngsters to the magic of live theatre with the classic tale of Beauty and the Beast. Taking place at 2 pm on Wednesday, March 12 at Meaford Hall, tickets for youth 12 and under are only $10. Adult tickets are priced at $20 and group discounts are available through the box office for this special show.