Details

Published: Thursday, 13 February 2014 10:01
Written by Staff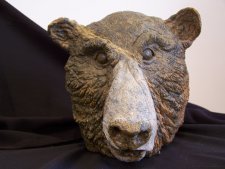 Currently on display in the Galleries at Meaford Hall are exquisite carvings depicting animals, faces and even trees. Made from materials such as antler, steatite and even mastodon tusk, they form an exhibit titled Legends of the Mi'kmaq.
These creations each come with their own back story – hinted at by titles such as 'The Man Who Would Live Forever' and 'The Dragon, The Witch and The Wolverine'.