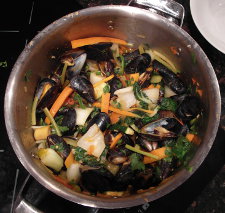 My Dad used to tell me that when he was a young child (this would be about 1912-1917), they were able to purchase mussels from the local butcher. The mussels came in a very large barrel and would only be available for a short time. He did not like mussels, as I am sure my grandmother would only steam them and serve with a little butter – not exactly what a young child would like.
He never did learn to like them. My family loves mussels and we will have them for a brunch or dinner. With all the vegetables added, this is a hearty meal. If you do not like curry, substitute oregano and basil. The vegetables are added in order of what needs the most cooking.
Prep and cook time: 20 to 30 minutes
Serves 4
Curried Mussels
1 pound mussels
2 tbsp oil
3 cloves garlic, minced
1 tbsp minced ginger
½ Spanish onion, chopped medium
5 plum tomatoes, chopped finely
½ to full small jar of Thai red curry paste or 1-4 tbsp curry powder (least amount is less spicy)
1 tbsp fish sauce
1 cup white wine or dry vermouth
1½ cups water
1 carrot, cut into thin strips (julienned) (or use the vegemite which cuts the carrot into thin spirals)
1 yellow, red, or orange pepper, julienned
1 small zucchini, julienned
3-4 bunches baby bokchoy - separate white stock from green leafy part. Chop separately (large pieces)
2 stalks celery, julienned
Handful cilantro, roughly chopped
Prep mussels by immersing in cold salted water – let soak for a least a few minutes (I usually throw them in the sink filled with the salted water and then prep the veggies). Clean and remove beards, if any (many packaged mussels are already very clean without beards). Discard any mussels that do not close when tapped. These mussels are dead and may contain bacteria. They should not be used.
In a large pot:
Sauté onion, garlic and ginger until soft, add tomatoes and sauté until tomatoes start to break down,
Add carrots, sauté for a few minutes. Add peppers and celery, sauté for a minute or so.
Add zucchini and white part of the bokchoy and curry, stir until curry coats all the vegetables,
Add fish sauce, wine, and water, bring to boil and stir,
Add mussels – stir, turn down heat to medium high and cover.
Check after 3 to 4 minutes – mussels should start to open. Add the bokchoy greens and cilantro and stir again.
Cover the pot and continue cooking for another 3-4 minutes or until all the mussels are open. Discard any mussels that do not open.
Ladle the mussels, veggies, and broth into a bowl and serve with fresh French baguette.