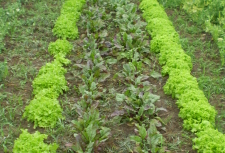 Members of the Meaford Community Gardens organization have partnered with other community members to establish a community polyculture orchard on the outskirts of the urban area of Meaford on a property donated by the Shepstone family. Work gets underway this spring on what will be called the 'St. Vincent Centre for Organic Farming'.
"To start, edible nut and fruit trees will be planted on a one acre plot, interspersed with berry bushes and other perennial plants. Heritage varieties of edible fruit and nut trees, which are disease-resistant, will be selected and established," explained Jaden Calvert of the Meaford Community Gardens.
Calvert says that the St. Vincent Centre for Organic Farming will be a research and learning centre, demonstrating the health, resilience and benefits of edible perennial polycultures, and their work will show that these systems can be as productive as, if not more productive than, conventional growing systems.
Kerry Shepstone, who has donated the land for the project, told The Independent that he hopes the project will produce healthy food for the community.
"I wanted to find a use for the land other than just hay. I thought it would be nice to have a place where those who were interested could come out and grow some food, keep it organic and clean and maybe help the community at the same time. Children and adults alike can come out, enjoy a few hours in the garden and maybe even learn a little in the process. Wouldn't it be wonderful if some day we could feed the community with food produced in the community and have the upcoming generations continue the process? An entire forest could be started with just one seed," said Shepstone.
Foods harvested from the St. Vincent Centre for Organic Farming will be distributed through the Golden Town Outreach Food Bank, the local public schools' nutrition programs, and will also be shared with those involved in the planting, maintenance, and harvesting at the St. Vincent Centre for Organic Farming.
The project organizers are looking for some help in getting the project off the ground. Project volunteer Rob Mahy told The Independent that they've already secured the use of a tractor, but they will need to build an inventory of gardening tools, and financial contributions are also welcome.
If you would like to get involved with this project in any way, contact Jaden Calvert at jaden@alumni.uoguelph.ca or 519-538-0628.