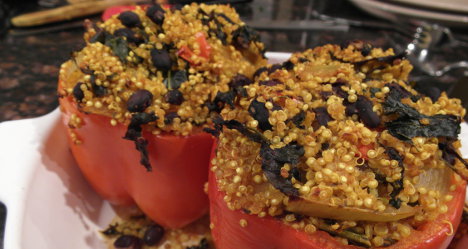 A few years ago we decided to have Meatless Mondays. It's fun to put together meals that have only vegetables, cheese, and legumes with various pastas, grains, rice. It is even more challenging to cook vegan meals.
Summer Meatless Mondays seem to be easier – it feels that we just go to the garden and graze. In winter, we tend to eat hardier meals – vegetable curries, pastas with a spicy vegetable arabbiata sauce, and vegetable stir fries. A great old standby is stuffed peppers, exchanging the rice with quinoa. This is a very filling meal. Half a pepper with a small salad would be enough for many.
Note re: black beans: I like to have precooked beans on hand. I will cook a few varieties of beans then freeze to use later. This works well for kidney beans, chick peas, black-eyed peas, black beans, Roma beans, etc. I soak the beans overnight then cook the next morning - depending on the bean, this takes 30 to 90 minutes. Spread on cookie sheet to cool, then freeze (on cookie sheet). Store in plastic bag. You can throw in the beans still frozen (to chili for example) or thaw first. I try to save the liquid (by freezing) from the cooked beans – it is wonderful in soups, chili, sauces, etc.
Stuffed Peppers
2- 4 servings
Preheat oven to 325F
2 large red peppers – top cut off (discarding stem, saving any pepper from top), seeded and cored
1 T olive oil
½ large Spanish onion, coarsely chopped
Large handful of stemmed kale, coarsely chopped
1 cup quinoa
1 ½ cups vegetable broth (homemade or you can purchase vegetable cubes or vegetarian chicken cubes)
Basil (1 tbsp dry or 3 tbsp fresh)
1 tsp each dried thyme and savory
3 cloves garlic, minced
1 tsp cayenne pepper (more if you like it very spicy)
1 cup black beans (if using canned, drain and rinse well)
1 large carrot, coarsely chopped
Salt and pepper to taste
Sauté onions until clear.
Add garlic, sauté a few minutes.
Add quinoa, sauté a few minutes.
Add broth, cayenne, kale, and herbs, simmer for 10 minutes, then add carrots.
Continue cooking (about 20 minutes more) until quinoa is done (will be translucent – if not done and dry, add more liquid and continue cooking).
Remove from heat, add beans, add salt and pepper (if needed).
Stuff peppers with quinoa mix and place in shallow oven pan.
Add the remaining broth (¼ cup) and bake for 30 minutes or until pepper is soft but still has enough structure to hold the quinoa. Add water if liquid dries out.
Black Bean Sauce
A great addition to this meal is a spicy black bean sauce. This sauce is also excellent with a vegetable or beef stir-fry. Leave out the chilies if you do not like spicy foods.
3 cups (or one can) black beans (this was measured frozen)
2 cloves garlic, minced
1 tbsp minced fresh ginger
2 Thai chilies chopped fine
1 tbsp olive oil
Approximately 1 cup water or vegetable broth, or if you have cooked your beans, the bean water
3 tbsp red vermouth (optional)
1 handful chopped cilantro
Sauté garlic, ginger and hot peppers until soft. Add beans and liquid and simmer until beans are soft. Mash the beans a little (if needed, add more water to get the consistency of a sauce).