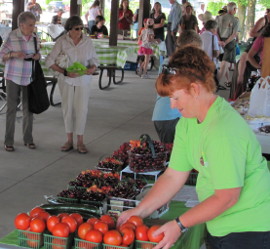 With the long, cold winter months now just a memory, and with the first crops being planted in the ground, the Meaford Farmers' Market will kick off its 2017 season on Friday, June 2, at the Rotary Harbour Pavilion.
The Friday afternoon markets at the harbour have become a weekly tradition in Meaford during the summer months, and through its first ten years that tradition has extended beyond locally grown food to include live music, a market chef, and numerous special events. Market Manager Jaden Calvert says that those traditions will continue this year.
"The Meaford Farmers' Market team is looking forward to the many delicious creations that the Market Chef will create again this season, featuring ingredients found at the Meaford Farmers' Market. The Meaford Farmers' Market team is also looking forward to all of the amazing local musicians attending the market and blessing everyone with their beautiful music; new this year will be some open-mic jams at the market - stay tuned!" Calvert said.
Calvert says that there will be many new vendors for market patrons to get to know this season, including Bell's Edge Farm, offering homemade garlic, as well as other flavors of butters, Barefoot Gardens offering fresh locally grown veggies, Soulshine Kitchen, which will be offering unique ready-to-go foods with organically grown ingredients and fresh-pressed juices, Trailblazers offering fruit leathers, as well as fresh cut flowers, and the newly opened Sail Restaurant will be offering fish and chips from their food truck.
Several vendors that patrons have come to know and love over the years will also be returning.
"Howell's Fish is back, Nick Rallis with his olive oil, and the al Sheayers with their Syrian cuisine, as well as many of your favorite vendors from past years," Calvert noted.
While the farmers' market is a showcase of Meaford's agricultural heritage, it is also an outlet for local artisans to share their arts and craft products with the community. The arts and craft vendors have proven to be a popular complement to the bounty of locally grown fruits, vegetables, and meats available at the harbour on Friday afternoons.
If you are interested in becoming a vendor at the Meaford Farmers' Market, you can download a copy of the 2017 Vendor Application Form from www.meafordfarmersmarket.ca and drop it off, mail to the Meaford Chamber of Commerce, or email to info@meafordfarmersmarket.ca.
Market organizers are also looking for musicians to perform at the market and for local community groups which would like to participate. If you are a musician or a community group/organization and would like to attend the Meaford Farmers' Market, or if you have any questions, you can connect with the Market Manager at info@meafordfarmersmarket.ca.
Those who attend the opening day of the market on Friday, June 2 will have a chance to win a Meaford Farmers' Market gift basket.
The 2017 Meaford Farmers' Market season runs Friday afternoons from June 2 to October 6, from 3 to 7 p.m., at the Meaford Harbour Pavilion.