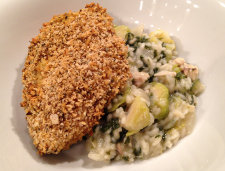 Having some basic ingredients on hand makes last-minute cooking much easier. Many recipes call for items that are difficult to find, something that would not normally be in your refrigerator, foods that you do not like, or unfamiliar ingredients. These are some of the staples that I usually have.
Vegetables: onions, carrots, yellow/orange/red peppers, celery, sweet potato (or white or yellow-fleshed potatoes), kale or Swiss chard, spinach, tomatoes, broccoli, or cauliflower. We love Brussels sprouts so I usually serve them at least once a week. Substitute Brussels sprouts with broccoli or cauliflower.
Fresh Herbs: garlic, ginger, parsley, cilantro* (dill, basil, rosemary, thyme);
Dried Herbs/Spices: basil, ground thyme, oregano, cumin, chili powder, savory, turmeric, paprika (Spanish, Smokey or hot), Chinese 5 spice, herbes de Provence, coriander, marjoram;
Miscellaneous: tomato sauce (I have a garden so I make my own, but canned sauce is fine), canned tomatoes, coconut milk, various mustards (not yellow – Dijon, tarragon, balsamic fig & date, Black Harp, Sweet & Smokey, Amazing Maple, Honey Garlic, etc.), good olive oil, balsamic vinegar, red wine vinegar, sesame oil, fish sauce, hot sauces (I make my own but usually have sriracha, cholula and others on hand), various pastas, basmati rice, wild rice, quinoa, variety of nuts/grains/seeds (hazelnuts, pecans, sesame seeds, pumpkin seeds), Panko, corn meal.
My cupboard and fridge, of course, have lots of 'other basics', but this is a good start.
* Cilantro is the most used herb in the world but we do not use it as much in North America. You will either like cilantro or just can't tolerate it. The latter is genetic: it will "taste like soap". Both my son and brother cannot eat cilantro so I often serve cilantro on the side to add as wanted.
The following dinner was put together with what we had on hand.
Crispy Chicken with Risotto
Serves 4 – 6
Chicken
4 skinless chicken breasts, bone-in
1-2 c. Panko mixed with 3 tbsp. basil (or oregano or mixture of both) and 1-4 tbsp. hot cayenne pepper (according to your taste for heat!)
1 c. flour
1 egg whisked with 1 c. milk
Debone chicken breasts.
Immediately boil chicken bones in 4 c. water (simmer for a minimum of 10 min.) and add 1 chicken or vegetable boullion cube
Preheat oven to 325F
To coat chicken:
In three separate bowls add the Panko mix, egg mix, and flour
First coat in the flour mix (to allow the egg mix to adhere to the chicken), then immerse the chicken in the egg mix, coating thoroughly.
Lastly, put the chicken breast into the Panko mix, again making sure the chicken is well-coated.
Place a layer of parchment paper in a pan or rimmed baking sheet, and add the chicken. Bake 30-35 minutes until done (crispy and slightly brown and juices run clear when speared).
Risotto
1½ c. Arborio rice
4 c. chicken stock
1 tbsp. oil
1 Spanish onion
2 c. Brussels sprouts, halved
Handful fresh parsley, chopped
Handful fresh cilantro, chopped
Handful of kale, stem removed, chopped
Salt* & pepper to taste
* I rarely add salt when cooking (or very little). I do not like a lot of salt and many are on salt-restricted diets so I prefer adding salt at the table (if needed).
By the time you have prepped the chicken and put it into the oven the chicken stock should be done: take out the bones, and when cooled, remove any remaining chicken bits to add to the risotto.
In a large pot, sauté the onions until soft, then add Brussels sprouts, sautéing a few minutes. Add rice and sauté a few minutes, making sure not to brown too much.
Slowly add 1 cup of the chicken stock, stirring regularly until almost gone, then continue adding stock one cup at a time until the rice is soft and creamy (cooking on medium heat). The kale can be added with the addition of the 2nd cup of stock. Add the cilantro and parsley half way through cooking. Make sure that you stir often. You need not stir all the time but very frequently to ensure the rice does not stick to the pot and is cooked evenly. This is a dish that needs attending but you do not have to hover over it constantly. From start to finish it takes about 45 minutes.