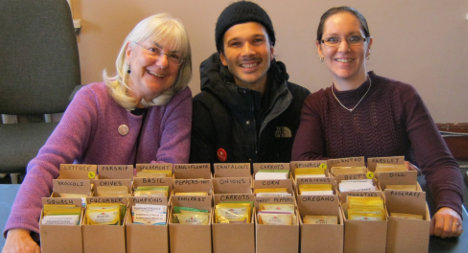 Thanks to a generous donation from two Meaford businesses, the Meaford Seed Library has been replenished.  After a busy spring and summer growing season, the drawers of the Seed Library were quite bare.
Residents and visitors have been coming in to the Meaford Public Library and signing out seeds to use in their home gardens. A wide variety of vegetable, fruit and flower seeds were offered at no cost.
Two local businesses – Bill's ValuMart and Rice's Home Hardware – recently gave generous donations of seed packets which have effectively replenished the Seed Library. The donations comprise hundreds of commercial seed packets.
Meaford Seed Library co-organizer Lindy Iverson explained, "The Seed Library has had an excellent year with many people borrowing the seeds and also participating in workshops on seed saving and gardening. We are thrilled to have the partnership of our local businesses to help restock the Seed Library."
Jaden Calvert, a newly elected councillor and Seed Library co-organizer, commented, "We are very blessed in this community. This gracious donation will help us build on the past achievements of the Seed Library and look forward to a busy and exciting 2015 for local gardening efforts. Initiatives like the Seed Library help us have a stronger connection with our food and where it is grown. We would like to thank to Rice's Home Hardware and Bill's ValuMart for seeing the value in this effort and making this kind contribution to the Seed Library's future."
Shown with some of the newly donated seeds are (from left): Lindy Iverson, Jaden Calvert, and Amy Jennison, Outreach Coordinator of the Meaford Public Library.