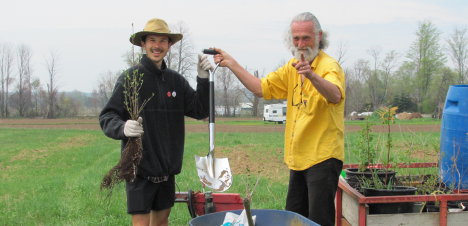 In just a few short weeks the St. Vincent Centre for Organic Farming has gone from the planning stage to shovels in the ground, and the organizers of the initiative have been busy planting the first phase of the project.
Thanks to donations from Meaford residents, as well as from others as far away as the state of Washington, a wide range of trees and other plants were able to be purchased for the site, which is located on Highway 26 in the former St. Vincent township on property donated by the Shepstone family.
Roughly two dozen Meaford residents have become involved in the project thus far, and they have been busy this month planting pear and apple trees along with a variety of nut trees and berry bushes.
"This year we are focusing on planting perennials, and building up the soil health with quality compost," explained Jaden Calvert, who is one of the project organizers. "Next year we'll get into planting more annuals and vegetables."
Also being planted this year are a variety of herbs that will be offered to local healers and caregivers for making tinctures, teas, creams, and other herbal remedies.
Project organizers are planning for the St. Vincent Centre for Organic Farming to be a research and learning centre, demonstrating the health, resilience and benefits of edible perennial polycultures, and through their work they hope to show that these systems can be as productive as, if not more productive than, conventional growing systems.
Part of their mission will be to educate the community about growing organic food, and the first school groups will be visiting the St. Vincent Centre for Organic Farming in early June.
On Mother's Day, Meaford residents were invited to plant a tree at the site in honour of mom, and several people arrived either with their own trees, or adopted one of the many trees already procured by the volunteers.
Foods harvested from the St. Vincent Centre for Organic Farming will be distributed through the Golden Town Outreach Food Bank, the local public schools' nutrition programs, and will also be shared with those involved in the planting, maintenance, and harvesting of the produce.
The project organizers are still looking for some help in getting the project off the ground. Project volunteer Rob Mahy told The Independent that they've already secured the use of a tractor, but they will need to build an inventory of gardening tools, and financial contributions are also welcome.
If you would like to get involved with this project in any way, contact Jaden Calvert at jaden@alumni.uoguelph.caor 519-538-0628.