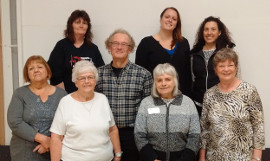 The Meaford Farmers' Market is ramping up for another year. At their most recent Annual General Meeting, the following members were voted onto the board: Marion Boyd (President), Mary Fothergill (Vice-President), Angela Beattie, Laura Buckler, Nancy Cichon, Tony Komar, Brenda Mceachern, Judy Shield, and Judy Wilson.
Marion Boyd, who has been president of the Meaford Farmers' Market for the past three years, said she is looking forward to the coming market season.
"Thanks to all of you for supporting the Meaford Farmers' Market in 2016. Last year, there were a wonderful variety of foods, arts and crafts available. The Meaford Public Library staff, offering stories, songs, and activities for kids, the education table, the musicians and the Market Chef, Erin, continued to enhance the atmosphere at the market. I am looking forward to another farmers' market year!" said Boyd.
If you would like to apply as a vendor at the Meaford Farmers' Market, the 2017 Meaford Farmers' Market Vendor Application Forms are now available on www.meafordfarmersmarket.ca. Click on the '2017 Application' button on the home page to download the form. Applications are due by April 1.
If you have any questions and/or for more info, contact Jaden Calvert, Manager of the Meaford Farmers' Market, at info@meafordfarmersmarket.ca.
Board members in the picture are: From left to right, back row: Brenda Mceachern, Laura Buckler, Mary Fothergill. From left to right, front row: Judy Wilson, Nancy Cichon, Tony Komar, Judy Shield and Marion Boyd. Missing: Angela Beattie.