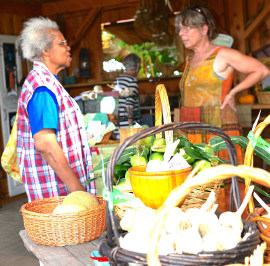 On Saturday, August 20, more than 50 people toured around the Municipality of Meaford on a bus visiting Barbetta Orchards, The Barn Co-operative, Coffin Ridge Winery, Sunrise Organics, and Wolf River Farm as part of the first annual 'Tastes of Meaford Bus Tour'.
Tastes along the way included: fresh apple cider and blueberries, jams and jellies, smoked garlic, watermelon, wild tea shots, and vines, to name a few!
Throughout the tour, participants also learned about the local apple industry at Barbetta Orchards, the many benefits of wild foods that are found throughout our community at The Barn Co-op, what makes Coffin Ridge's wines so good, and the diversity of peppers, from super-sweet to super-hot at Wolf River Farm, as well as how Sunrise Organics grows such beautifully delicious foods.
Hayley Ritchie said, "The whole tour was wonderful – a chance to see the kind of things and places that I have wanted to see." And Doreen Evelyn said, "It was the best thing [she] has done in Meaford thus far!"
Jaden Calvert, manager of the Meaford Farmers' Market, says that given the overwhelming positive feedback received from people who thoroughly enjoyed the first tour there will definitely be another tour in 2017.
"A big thanks goes out to all of the stops on the tour as well as to all the participants and to Community Foundation Grey Bruce for their support of the tour," said Calvert.