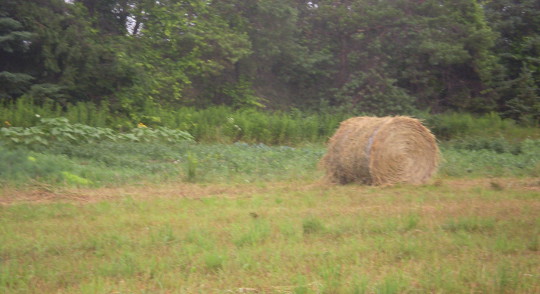 While many farmers in Grey Bruce have so far managed the ongoing lack of rain, Eat Local Grey-Bruce says that the impacts of the drought are increasingly visible in fields and pastures across the region.
As of August 5, Agriculture and Agri-Food Canada reports that most of the region is experiencing "very low" levels of moisture for this growing season. In contrast, other parts of Ontario to the east and south are experiencing "extremely low" and "record dry" situations.
The dry weather was helpful to farmers for harvesting hay earlier in the season and more recently small grains. But as the lack of significant precipitation continues, farmers are facing greater challenges. Field crops such as corn and soy beans are at critical growth stages: prolonged lack of moisture would be devastating. Depending on soil quality and local rainfall conditions, field conditions range between "already wilted" or "yield impacts".
For beef farmers and other pasture users, the situation is also worsening. Mathias Seilern from Kincardine reports that "the pastures have not been recovering despite strict rotational grazing so we are now feeding hay, which is cutting into our winter stored feed supply. Also, we rely on a creek for watering the cattle on many parts of the farm, and it has long since dried up."
Beekeepers are also feeling the pinch. Jeri Parrent from Wiarton explains: "For a good late summer nectar flow some flowers need moisture and cool evening temperatures, so the hot dry weather is likely to impact our overall yield. The next few weeks are a critical time."
Vegetable growers are having difficulties establishing fall crops. While there is still time to substitute shorter-season crops for longer-season crops that have already failed, the lack of soil moisture makes this more difficult.
At this point, even the best management practices that build soil organic matter, which allow the soil to hold moisture longer, can only mitigate the worst. Soil moisture has become too low for plants to cope with the severe weather experienced by the region. All local farmers can do is hope that rain is coming soon.
Eat Local Grey Bruce is a not-for-profit cooperative of food producers and consumers. They envision a local food distribution system that efficiently connects producers and consumers, provides meaningful employment, enhances the environment and biodiversity, supports healthy living throughout the entire food chain, and vitalizes a culture of food.
Producer members offer frozen meat, refrigerated dairy, veggies, bread, fruits, flours, and some preserved goods, plus we buy additional items from the Ontario Natural Food Co-op and other suppliers. Consumer members order food online. Orders are fully customizable and no regular commitment is necessary. Orders can be placed until Sunday evening each week, with delivery occurring the following Wednesday and Thursday. You can find out more about Eat Local Grey-Bruce by visiting their website: eatlocalgreybruce.ca