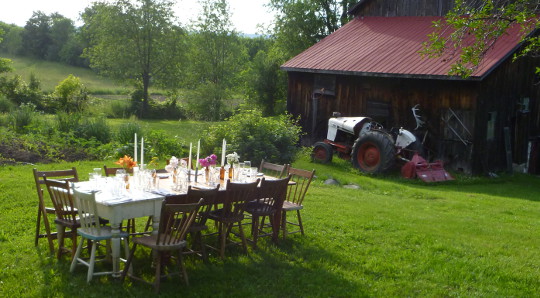 The SMILE Animal Society and the Meaford Farmers' Market have announced plans for the 3rd annual Feast of Fields to be held at the Meaford Harbour Pavilion Saturday, August 27 from 5:30 – 9:00 pm.
The feast will include a multi-course vegetarian meal prepared by several renowned local chefs using fresh, locally-grown produce. In addition, a number of local musicians will provide entertainment during the family-oriented event.
Tickets are $25 in advance and $30 at the door for adults, $10 for children aged 5 to 12 and free for children aged 4 and under. They can be purchased at several locations in Meaford including Country Affair Candle Factory, 267 Marshall St. E., The Barn on 121 Old Highway 26, Sunrise Organics, 205630 Highway 26 W. , and the Garden Booth at the Meaford Farmers' Market every Friday afternoon from now until August 26. They can also be ordered by e-mailing SMILE at info@smileanimalsociety.com
All proceeds of the event will support efforts of SMILE Animal Society, formed three years ago in Meaford to help families and their pets in times of crisis, as well as improvements and growth of the Meaford Farmers' Market, now celebrating its 10th season.