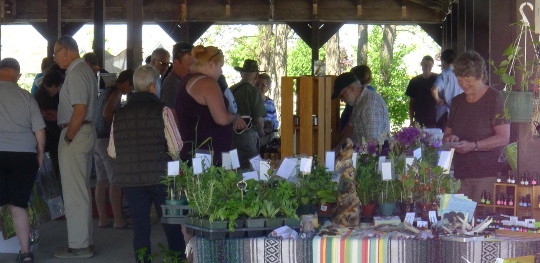 Clear blue skies and a large number of shoppers greeted the Meaford Farmers' Market when it opened for its 10th season on Friday, June 3.
"It's really exciting to get things all together and come for the first market because it feels like coming home, I love it," beamed vendor Marion Boyd, who is also the president of the market board this year. "I'm excited for this season, we have a wonderful group of vendors, a lot of them are returning vendors that have been well-received here in the past, and we have several new vendors, and we have quite a good mix of products here now."
Market manager Jaden Calvert told The Independent that Meaford's farmers' market has continued to grow in recent years.
"This year we've got a number of new vendors which is great, every year we seem to attract new vendors," said Calvert, who added that vendor revenues and the number of visitors to the market have been trending upwards over the past four years. "From 2014 to 2015 we saw a 25 percent increase in vendor revenues."
Calvert said that the market sees an average of roughly 250 visitors each Friday afternoon during the market season.
In addition to the more than 40 vendors featuring a wide selection of locally grown, produced, and locally raised meat products, the market features arts and craft products, ready to eat foods, live music, and several special activities throughout the summer.
Those vendors were busy serving customers on opening day, which also featured a visit from Meaford Mayor Barb Clumpus who brought greetings from the municipality.
To celebrate the 10th Anniversary of the Meaford Farmers' Market, the market team will be launching an annual 'Tastes of Meaford' bus tour, visiting many food destinations throughout the Municipality of Meaford. The tour will occur sometime in August.
The market will once again be featuring the popular Market Chef, who creates delicious recipes featuring locally-grown produce that can be found at the Meaford Farmers' Market. The market will continue every Friday afternoon, running from 3 to 7 p.m. until Thanksgiving, at the Meaford Harbour Pavilion. Follow the signs to the Meaford Harbour Pavilion, off Trowbridge Street in beautiful downtown Meaford. Visit www.meafordfarmersmarket.ca for more information.