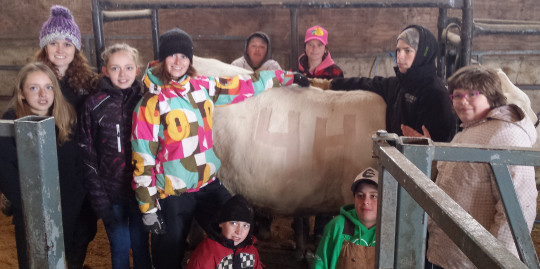 On May 15, the Meaford St. Vincent 4-H calf went to Destiny Simmental for their own fitting day. After completing the business part of their meeting, the club braved the snowstorm in the barn.
Guest fitters were Brian Robertson, who instructed the group on fitting beef cattle, and Shea O' Neil, who instructed the dairy members of the group. Each participated in a clipping lesson to help members understand how to show off their calf's strengths and hide their weak points.
Each 4-Her got to clip part of a calf as a team. After they completed their task, they had some fun with the clippers. One calf now advertises 4-H.
Thanks to Todd and Karen Campbell for their barn and warm house for lunch, as well as Paul Vickers for bringing the dairy cattle. A special thanks to Brian and Shea for their expertise. The club will meet next time to learn about showing cattle and sheep for the upcoming fair season.