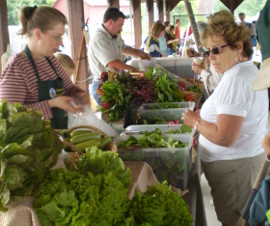 Meaford Farmers' Market President Marion Boyd, is excited for the coming market season, a season that will mark ten years since the market was formed.
"We are very excited to have over 40 different farmers and artisans this year, offering a wide variety of produce and products. Of course you will be able to get a wonderful array of fresh fruits and vegetables in season, but we also have many local artisans offering their wares. There will be stoneware, handmade soaps and candles, local VQA wines, knitting, teddy bears, artwork, preserves, baking, breads, fresh pasta and sauces, chocolates, honey, eggs, ready-to-eat foods such as salads, soups, and stews, plants, flowers, and much more. We will again have fresh fish as well as locally-raised lamb, pork, and other meats. Among our new vendors this year is a local farmer with 12 varieties of garlic, as well as many garlic-related products."
Boyd says that musical entertainment will be offered every week by local musicians, as well as other various activities throughout the season, such activities for kids under the Meaford Public Library tent.
"Starting in June, we will again be featuring a Market Chef, offering delectable food items featuring locally-grown produce that can be found at the Meaford Farmers' Market," said Boyd.
To celebrate the 10th Anniversary of the Meaford Farmers' Market, the market team will be launching an annual 'Tastes of Meaford' bus tour, visiting many food destinations throughout the Municipality of Meaford. The tour will occur sometime in August.
The grand opening day is Friday, June 3,where there will be a gift basket draw, free goodies, and a visit from Mayor Barb Clumpus. The market will continue every Friday afternoon, running from 3 to 7 p.m., until Thanksgiving, at the Meaford Harbour Pavilion. Follow the signs to the Meaford Harbour Pavilion, off of Trowbridge Street in beautiful downtown Meaford. Visit www.meafordfarmersmarket.ca for more information.