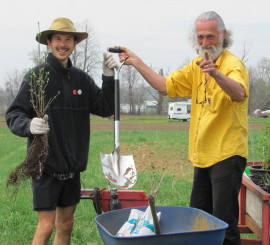 With the warmer weather finally taking hold, it's time to get out in the garden to plant some seeds, and if you're looking for things to plant, the Seedy Sunday event that will be held at The Barn Co-op on Sunday, May 29 might be an excellent first stop.
The event, which runs from 11 am until 3 pm, will feature seedling, plant, and seed vendors like Fiddlehead Nursery, Kolapore Gardens, Fairmont Fields, and the Meaford community garden volunteers. Sunrise Organics will also be part of the event offering their locally produced compost.
Also part of the fun will be a barbeque featuring organic grass-fed beef burgers along with portobello burgers from Dragonfly Farms, hula hooping with Revolve Hula Hoops, face painting with Raindance Cosmetics, and live music by local musician Jayden Grahlman.
The Barn Co-operative is located at 121 Old Highway 26, on the eastern border of the municipality.
For those looking to get their hands dirty, the St. Vincent Centre for Organic Farming will be hosting a tree planting event from 3 to 6 pm, also on Sunday, May 29.
"All are welcome!" says organizer Jaden Calvert, adding that if anyone would like to get involved with this project in any way, including planting trees on May 29 and/or donating plants to the centre, or for more information about the centre can contact him at jaden@alumni.uoguelph.ca or 519-538-0628.
"People are welcome to bring their own trees, shrubs and other plants, if they wish. The St. Vincent Centre for Organic Farming team is looking for a diversity of plants to be planted at the centre. There will be many trees on-site that the team is looking for help to plant. The team wants to continue to grow the centre to be able to provide more community members with healthy foods and medicinal plants," said Calvert. "Last year, a number of edible fruit and nut trees, berry bushes, herbs and many native deciduous and coniferous trees were planted at the centre."
Part of the mission of the St. Vincent Centre for Organic Farming, located at 205732 Highway 26, west of the town of Meaford, is to educate the community about growing organic food, including engaging Meaford students with visits to the facility.
Foods harvested from the St. Vincent Centre for Organic Farming will be distributed through the Golden Town Outreach Food Bank, the local public schools' nutrition programs, and will also be shared with those involved in the planting, maintenance, and harvesting of the produce.