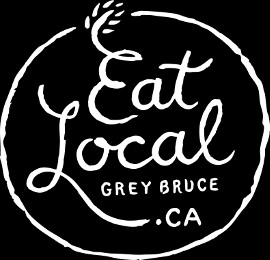 The Eat Local Grey Bruce Cooperative is now accepting consumer members for their local food, home delivery service. Starting in May, the cooperative of local farmers and food producers will deliver local foods to customers' doorstep.
The group spent the past winter assembling the cooperative, hiring staff and finding warehouse space in Owen Sound. This follows on last autumn's successful test run in which $23,000 worth of local products was delivered to more than 200 customers throughout Grey Bruce, in a single day.
"It's an honour to be one of the farmers selling through the co-op but beyond that I am also just so excited to use the service myself!" said Jennifer Seilern, Eat Local president. "I'm a busy working mom and I can't wait to be able to shop for the best food, on-line, at my own convenience and have it show up at my door! Amazing!"
On April 18, the co-op launched its website www.EatLocalGreyBruce.ca, and is now asking consumers to sign up for memberships. Memberships are available for one to four years and cost from $35 to $100. Through a membership consumers will be able to access on-line purchasing and delivery of a wide range of local foods, as well as voting privileges within the co-op.
The co-op plans to launch home deliveries in the Owen Sound area in late May, then expand to most areas in the counties. Expansion will respond to where the most members have signed up.
Eat Local Grey Bruce is a not-for-profit cooperative of food producers and consumers. Co-operatives are member-owned enterprises where all members have the same voting power. Together, a third path for the food system is created by establishing a direct relationship between consumers and producers, and a common ownership of the distribution infrastructure.
Customers order food online from a wide variety of local producers, supplemented with additional products from further afield. Orders are fully customized and include refrigerated and frozen items (fruits and vegetables, dairy, eggs, meat, fish). Customers can also select regular orders and seasonal produce boxes. The products are gathered at the warehouse, assembled into customer orders and then delivered to the customer's front door.
Find out more at www.eatlocalgreybruce.ca