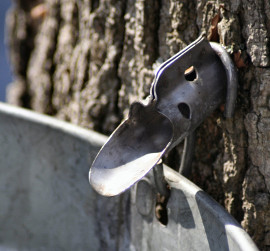 On Saturday, April 9, Kemble, a picturesque village just north of Owen Sound, will play host to the 7th annual Kemble Maple Syrup Tour and Artisan Market. This year's tour consists of seven farm stops, allowing participants to experience a full range of syrup production techniques, from tiny back yard operations to large scale commercial setups.
"This area is unique when it comes to syrup production," said Bob Gray, owner and operator of Kemble Mountain Maple Products. "There are lots of producers within a small geographic area tapping trees that grow on the rocky soils of the Niagara Escarpment. We are home to some of the highest quality sugar maple trees in the world. With good equipment and good technique, we can make some of the finest syrup you will taste anywhere."
Included in the price of the tour is a stop at Kemble-Sarawak United Church for an amazing maple-themed breakfast or lunch, made with love and local products. While stopping for the hot meal, tour participants can also shop the artisan market at the church. The natural beauty of the area is reflected in each piece made by talented area artists.
"The Kemble Maple Syrup Tour is a great day for the whole family," according to Beth Anne Currie, a local resident and tour organizer. "There are farm animals and fun activities for the kids, amazing interactive demonstrations, great food, and art for the adults. Every stop has something wonderful to offer."
For the second year, tour organizers will also hold a contra dance in the evening with live music from the award-winning band Scatter the Cats. The dance and social starts at 7:30 pm and will be held upstairs at Kemble-Sarawak United Church. Tickets ($10) will be on sale at the door.
Tour passports are $15 per adult, $10 per child (6-12) or $40 per family (two parents and their children). Children 5 and under are free. Passports can be purchased the day of the event at Kemble-Sarawak United Church or in advance from Indian River General Store in Balmy Beach, Kemble Post Office, Northern Confections in Wiarton and The Artist's Co-op in Owen Sound.