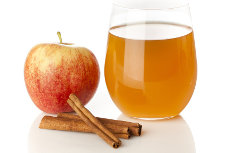 Bruce-Grey-Owen Sound MPP Bill Walker put local apple producers and cider makers front and centre at Queen's Park during debate on a bill to lower tax rates on hard cider products, as was done for the province's craft beer industry.
"Our region is becoming the Cider Capital of Ontario, being home to five of the 22 cideries in Ontario," Walker said during debate on Bill 110, introduced by Dufferin-Caledon MPP Sylvia Jones. "The reduction of the mark-ups and taxes would be a game changer for local cider companies and the apple industry."
If the government evens the playing field for Ontario craft cideries, it's estimated that overall economic activity in this new and expanding industry could grow to over $60 million by 2018, and 350 jobs could be created in this industry and its suppliers. It would also generate more than $2 million in taxes to local, provincial and federal governments.
"This kind of success is good for not just my riding's agriculture industry but also for our entire province with regard to jobs, supply chain, machinery and equipment, storage, bottles, cans," MPP Walker said. "It would build the Ontario hard cider industry as a world leader."
Similar comments were echoed by local cider makers.
James McIntosh of Duxbury Cider in Meaford said support from the province is critical.
"Bruce-Grey-Owen Sound is home to the highest concentration of Ontario craft cider makers in the province. We need new support from the province to make sure we have a strong and lasting future," said McIntosh.
Bryan Watts from Thornbury Beverage Company said the proposed changes would bring as much as $11 per case recovery to their cidery.
"Yes, we make $11 less per case of beer versus a case of cider. Our beer is made from imported ingredients while our cider is made from 100% Thornbury apples. It just makes no sense," Watts said. "(Bill 110) would contribute greatly to our expansion plans in Thornbury, subsequently adding more jobs and agri-tourism revenue to the local economy."
MPP Walker also reiterated during today's debate his previous request to the Liberal government to support a revitalization program for Ontario's apple growers in light of Ontario's new and emerging hard cider market.