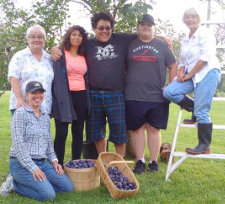 Locally grown, unpicked apples are one example of food that would otherwise go to waste if it were not for the efforts of local Second Harvest volunteers who collect the produce for schools and food banks. 
Second Harvest programs link over-abundance with the local demand for accessible nutritious food for those in need.
"Working together, we can ensure good food does not go to waste and that everyone has access to quality food," says Jaden Calvert, participant in the Second Harvest program. "We have more than enough food to feed us all.  It just makes sense if we can connect nutritious food that would otherwise go to waste with those in need."
The Second Harvest in the Meaford area provides that connection by diverting good food, which would not be used, to those who can best benefit. Harvests are split three-ways between the grower, volunteer pickers and the community. Since its launch last year in the local area, over 1,000 pounds of fruit has been harvested and distributed through schools and the Golden Town Outreach food bank.
"Families that spend a significant portion of their income on housing and utilities don't have enough money left at the end of the month to buy nutritious food. That affects their health and wellbeing." says Jill Umbach, Coordinator, Bruce Grey Poverty Task Force, "The Second Harvest is a fantastic local community-based initiative that can meet a real demand in our communities."
Second Harvest is not a new idea; there are hundreds of local programs across North America. Second Harvest is the largest food rescue program in Canada. Since 1985, Second Harvest has been picking up donated, surplus food, which would otherwise go to waste, and delivering that food to community agencies. Barrie, Guelph, and Toronto all have successful programs.
Do you live in Grey or Bruce County and are interested in getting involved with a Second Harvest food gleaning program? Do you know where there is food to be gleaned that would otherwise go to waste? Contact Laura Needham, Public Health Dietitian at: 1.800.263.3456 ext. 1267 or l.needham@publichealthgreybruce.on.ca