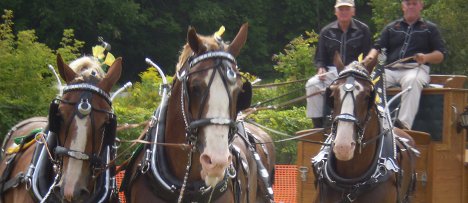 For 160 years, the Meaford & St. Vincent Fall Fair has showcased the agricultural heritage that built the community we know today.  160 years of the Fall Fair isn't the only milestone being celebrated this year.
"This year we are celebrating the 160th annual Meaford & St. Vincent Fall Fair, and we are also celebrating 100 years for 4-H Clubs in Ontario," event director Shirley Shortt told The Independent.
Whether you were looking to see what a prize-winning green pepper looks like, or if you're interested in an up close and personal view of some of the finest livestock that our area has to offer, the Meaford Fairgrounds is the place to be this weekend.
The Fall Fair is a celebration of not just our heritage, but our agricultural present, and it provides a small snapshot of our agricultural future. From livestock to produce, the Fall Fair captures the agricultural activity in our area, and while that level of activity is impressive, the average age of our farmers is inching ever higher, and there is concern about who will replace them.
Perhaps as a sign of that dwindling interest in agriculture among young people, absent this year is the Fall Fair Junior Ambassador. Fair organizers were unable to attract any entrants for the Junior Ambassador competition this year.
Exposing young people to the world of agri-business isn't often easy, but attending a Fall Fair and an introduction to the local 4-H club could be what's needed to spark an interest in some youth that could one day help produce a new farmer of the future.
The 160th edition of the Meaford & St. Vincent Fall Fair will take place at the Fair Grounds on Saturday, September 5, from 9:00 am until 4:00 pm.