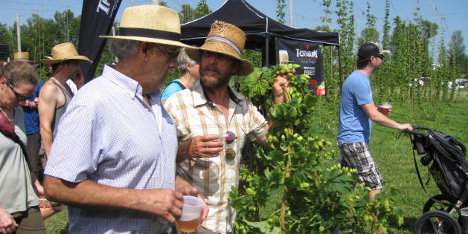 Meaford's Big Head Hops celebrated the beginning of harvest season on August 15 with their third annual ShinDig.  Nicholas Schaut, who operates the hop farm in rural Meaford, invited local craft brewers, musicians, and the beer-loving public to the event.
The 2010 Dragons' Den Meaford winner is among a group of hop growers who have been working hard to bring a once common crop back to Ontario, and for the first time since the 1930s, hops are now being harvested commercially across the province.
Schaut told The Independent that this year's ShinDig was the biggest so far, with more than 500 attendees.
"It went famously well. It was wonderful, and the weather cooperated," said Schaut. "We saw people returning after attending the previous ShinDigs, we saw people from the previous year who brought their friends this year."
Schaut said that among the comments from this year's attendees was that the event is now viewed as a tradition with an atmosphere akin to a family reunion.
Fifteen breweries participated in this year's ShinDig, along with seven food vendors and local musical talent.
Meaford's BigHead Hops is among the larger hop-growing operations in the province, and Schaut told The Independent that he has plans to grow even more.
"We currently have ten acres (of hops), and I am hoping to plant five more acres next year," said Schaut. "Our crops are currently sold for the next two years."
While most hop growers in Ontario are relatively small producers, Schaut was able to establish a larger growing operation as a result of significant investment in processing equipment which most growers do not possess.
"To be able to get past that half acre or an acre threshold, you need processing equipment. And that's the difficulty right now. So what our hope is here in Meaford is to be able to convert what we've done into a cooperative so we can build capacity for other growers, and work together. And then we can increase our capacity and their capacity through a centralized processing system," explained Schaut last year.
Schaut's ultimate goal is to gradually build his operation to include 15 to 20 acres of hops, which would be manageable on his Meaford property.