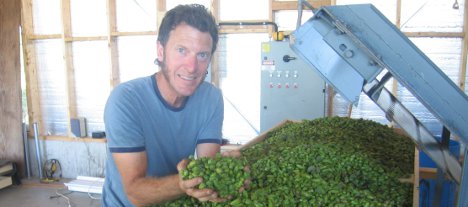 Meaford's Bighead Hops will celebrate the beginning of harvest season on August 15 with the 'Bighead Harvest Craft Beer ShinDig'.
On Saturday, August 15, from 12 pm to 5 pm craft beer, music, and local food lovers will gather in the hop yards of Bighead Hops in Meaford to celebrate the hop harvest.
Three years ago, Nicholas Schaut, who operates the hop farm in rural Meaford, invited local craft brewers, musicians, and a large number of friends, relatives, and area residents to the first ShinDig event, which has now become a highly anticipated annual event.
The 2010 Dragons' Den Meaford winner is among a group of hop growers who have been working hard to bring a once-common crop back to Ontario, and for the first time since the 1930s, hops are now being harvested commercially across the province.
"The Bighead ShinDig is a unique, laid back and cool event to happen in Grey County all summer. This year the event hosts over 14 local brewers and cideries with samples, local food vendors and a stellar lineup of local musicians, including folk favourites Moonshiner's Daughter," said organizers of this year's event.
In addition to sampling, food, and music there will be tours of the hop yards and processing areas, led by Schaut. Also this year, the Niagara College Teaching Brewery will be brewing a batch of beer right in the fields to demonstrate the process.
The event is family-friendly (kids under the legal drinking age are free to attend). Tickets are available through the Meaford Hall website or at the entrance. Tickets are $25 plus HST and include six sampling tickets. More sampling tickets are available for purchase on site.