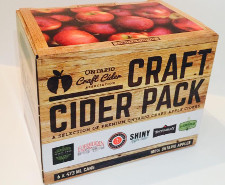 The Ontario Craft Cider Association (OCCA) will release its inaugural Ontario Craft Cider Pack this month at select LCBO locations, and two local ciders will be included in the pack Coffin Ridge's Forbidden Artisanal Cider from Annan, as well as Thornbury Premium Apple Cider.
Priced at $17.95, the OCCA Craft Cider Pack will feature six 473ml cans of Ontario craft ciders currently available at the LCBO.
"The Ontario craft cider market is seeing tremendous growth and what better time to sample a variety of local cider than in summer," said Tom Wilson, Chair of the OCCA. "Our members all proudly make their ciders with 100 percent juice of Ontario grown apples, and we hope this mix pack will educate consumers on what Ontario craft cider has to offer."
The pack includes the following six Ontario craft ciders:
Brickworks Ciderhouse, Batch: 1904, Toronto, 5.0% alc.
Medium lemon colour with light carbonation; the nose immediately detects fresh orchard apples, lively citrus zest and a hint of spice; on the palate it is dry with crisp acidity and flavours of homemade apple pie filling.
Coffin Ridge Boutique Winery, Forbidden Artisanal Cider, Annan, 6.5% alc.
Pale lemon colour; aromas and flavours of fresh, crisp apples; crisp, clean and refreshing.
Pommies Cider Co., Pommies Farmhouse, Caledon, 6.0% alc.
Deliciously crisp and refreshing, Pommies Farmhouse is dry, medium bodied with a baked apple aroma. A smooth taste with a rustic feel, Pommies is richly carbonated with an edge.
Small Talk Vineyards, Shiny Apple Cider, Niagara on the Lake, 7.0% alc.
Pale lemon colour; distinct aromas of apple fill the bouquet; dry, crisp with lots of lovely ripe apple flavours and a pinch of spice.
Spirit Tree Estate Cidery, Spirit Tree Draught Cider, Caledon, 6.0% alc.
Pale yellow colour with fine bubbles; aromas of ripe apple and apple blossom, with hints of herbal, leather and white wine notes; dry, crisp on the palate, flavours of tart green apple, with musky and vinous notes.
Thornbury Village Cidery Inc., Thornbury Premium Apple Cider, Thornbury, 5.3% alc.
Clear pale yellow colour; lightly aromatic, with green apple, light citrus and floral notes; dry, crisp on the palate, flavours of fresh Macintosh apple with notes of spice, pear and herb, quite balanced and refreshing on the finish.