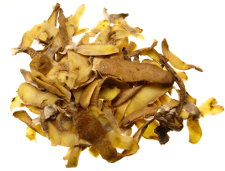 The desire to create more compost at the Georgian Bay Secondary School (GBSS) Community Garden has led to the sprouting of partnership between Meaford Community Gardens and a local café and secondary school.
For the past two months, both McGuinty's Café staff and GBSS staff and students have been collecting kitchen scraps that are then picked up by members of the Meaford Community Gardens network and taken to the GBSS Community Garden.
The kitchen scraps compost in the garden using a multi-bin composting system, which involves layering green materials (rich in nitrogen), including vegetable and fruit scraps, brown materials (rich in carbon) and well-aged manure.
"Composting is an important part of a healthy garden and by doing so reduces the amount of waste each of us sends to the landfill. Applying finished compost returns nutrients to the land, helps to hold moisture in gardens and on lawns and provides structure to the soil," says Jaden Calvert, co-coordinator of Meaford Community Gardens.
In order to keep a healthy garden that produces beautiful foods, Calvert recommends that residents of the Municipality of Meaford compost at home, if possible.
"If composting is not possible at home, organics could be shared with neighbours who do compost. As a last resort, organic materials should be placed in the organics green bins to be picked up every week." says Calvert.
For more information about this project, if you have organic materials that you would be willing to contribute to the compost piles throughout the Meaford Community Garden network or if you would like to learn more about composting, you can contact Jaden Calvert at jaden@alumni.uoguelph.ca.