Details

Published: Monday, 08 December 2014 10:30
Written by Staff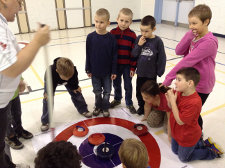 The popular Rocks and Rings program, sponsored by the Meaford Curling Club, has returned again this year.
Meaford Community School (MCS) students in grades 1-6 participated in some hands-on curling instruction in the school gym on November 25. They learned how to score points, how and why to sweep rocks, and even how to cheer.