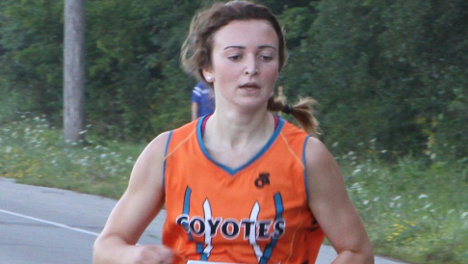 The University of Western Ontario in London played host to the 2015 OFSAA Regional West Track and Field Championships on Friday, May 29, and Saturday, May 30.
Day one had afternoon temperatures reaching 30'C as athletes gathered from Lion's Head to Windsor to compete for the "top-4 spots" as they attempt to advance to the high school provincial OFSAA championships next weekend on Toronto.
On Day one, in the Open Boys 2000m Steeple Chase event, grade 12 John Diefenbaker student, Dylan Pust posted another personal best time. He stopped the clock at 6:37.38 and knocked off 7 seconds as he crossed the line in 10th spot. Meaford's Alex Tulloch, a grade 10 student at GBSS, competed in the Junior Boys 1500m event Friday evening. He shaved 3 seconds off his previous personal best time as he crossed the line in 7th spot with a time of 4:28.76.
Day two had the Nusselder duo from Port Elgin competing in the 3000m event. Jessie Nusselder, a grade 12 student of SDSS, was the first on the line as she competed in the Senior Girls 3000m race. She had her game plan and ran a perfect race. Jessie took off with 800m to go and nobody went with her. She grabbed 2nd place, with a 9 second personal best time of 10:31.63. The third place finisher was 9 seconds back. Her younger grade 10 brother, Sam Nusselder laced up for the Junior Boys 3000m event. Sam also ran his race to perfection. Although he was a few seconds shy of his personal best time, his mission was accomplished as he won gold, crossing the line in 9:23.54, a full 6 seconds ahead of the second runner.
A very successful competition for the Coyotes with three personal best performances, one gold medal, one silver medal and two Coyotes advancing to OFSSA Championships next Saturday in Toronto for the 3000m.