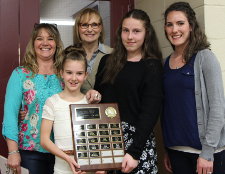 On Sunday, April 19, the Meaford Skating Club held its annual awards banquet at the Meaford Community Centre. A potluck meal was enjoyed by all, prior to the awards presentations.
This year the club had a very successful season passing 68 tests.
Awards were given out as follows:
Shooting Star of the Year: Bonnie Kwon-Bentley
Junior of the Year: Bethany Williamson
Intermediate of the Year: Tayah Davies
Senior of the Year: Emma Fulford
These awards were given based on most tests passed over the course of the season.
Spirit of Canskate Award: Ivy Kwon-Bentley and Brayden Dietrich
Canskater of the Year: Roman Darte
Program Assistant of the Year: Emma Fulford
President's Choice Award: Teagan Davies (given for best competition results this season)
Coach's Recognition Award: Emma Wright (given for best all around skater in academics and school sports and clubs)
Axelmania Award: Tayah Davies, Bethany Williamson (given for a consistently landed axel jump)
Omni Award: Emma Wright (voted on by the skaters to honour an individual who is looked up to, with a positive attitude, helpful and sets a great example both on and off the ice)
Volunteer of the Year: Crystal Falls
Val Fisher Award: Deb Shaw (given to an exemplary volunteer with a passion for the club)
Adams Achievement Award: Kirstin Knight (awarded for passing a gold level test)
The skating club extended thanks to Jen Wright, Debbie Shaw and coaches Vanessa Hensel, Karen Verbrugge and Mary Hardie for organizing the event