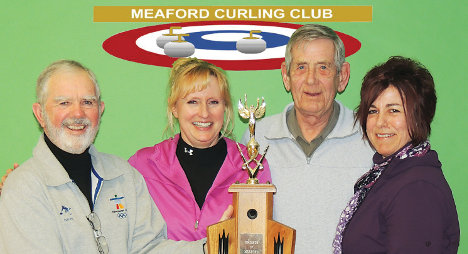 A sure sign that spring is fast approaching is when the ice is removed and the curling season comes to an end.
As always, the season ended at the Meaford Curling Club with one final fling – the Closing Bonspiel, which was sponsored by Sign of the Kiwi, Bill's Valu-mart, Knights of Meaford, and TD Canada Trust.
The winners were:
In Division A, the winners were Murray Dougherty, Betty Clock, Bill Bouwman and Kathy Harker.
Division B was won by Ed Farrar, Jenn Pearson, Stan Piotrowski, and Bryan Collins.
The winners of Division C were Shirley Case, Jeff MacDonald, Ken Bullock, and Joe Lawson.
Rounding out the winners at the Closing Bonspiel were the team of Jim Davis, Sandy Eagles, Linda Boyes, and Terri Pope, who earned top spot in Division D.
This season may have come to a close, but next season is just a golf season away.