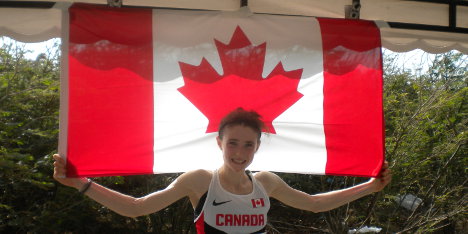 The Municipality of Meaford has announced Hannah Woodhouse as the community torchbearer for the TORONTO 2015 Pan Am Games Torch Relay.
The torch relay will visit Meaford on June 11.
"I feel honoured to represent my community, athletic club, and country at an international level," said Woodhouse.
As a grade 12 student at Georgian Bay Secondary School, Woodhouse is an avid runner and has been training for four years with the Meaford Coyotes Track Club. Through hard work, persistence, and determination she has participated in and won many competitions, including a National Indoor Track Champion Title in the 3000m and 1500m. After dominating cross country races last fall at the district, regional and provincial level, Woodhouse participated in the Canadian Junior Cross Country Championships held in Vancouver, BC.  Despite racing up an age group, she ended up winning her first National Cross Country Title, earning her spot on the Canadian National Junior Team.
"Hannah Woodhouse will proudly carry the Pan Am flame as the Municipality of Meaford's community torchbearer," said Mayor Barb Clumpus. "Meaford is excited to be a part of this historic journey and we look forward to showing our community to the world."
During the 41-day torch relay, each of the 3,000 torchbearers will complete, on average, a 200-metre relay segment. The torch will be carried by more than 60 modes of transportation and exceed 5,000 kilometres on the road and 15,000 kilometres by air.
"The torch is a unique symbol of the Pan Am Games and carries a powerful energy that will unite Canadians," said Saäd Rafi, chief executive officer, TO2015. "The torchbearers will proudly carry the flame through more than 130 communities, igniting the Pan Am spirit as they go."
Featured on the torch are the United We Play! pictograms — colourful depictions of people in motion —symbolizing the assembly of athletes through the celebration of sport and culture. The aluminum torch stands 65 centimetres high and weighs 1.2 kilograms (or roughly the same weight as a baseball bat). With a burn time of 10 to 12 minutes, the flame can withstand winds of up to 70 kilometres per hour and is visible in all kinds of weather conditions.