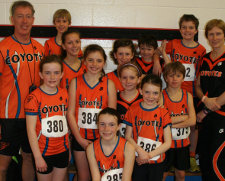 It has been a long winter, but the hard work and determination of the young Meaford Coyotes Track Club paid off at their final indoor race of the season.
Twelve grade 1-8 members of the Coyotes competed at the Ontario Minor Track Association Indoor Championships held a York University on Saturday, March 21 and Sunday, March 22. For many members this was their first experience at the provincial championship competition level and the entire team had an excellent weekend of racing.
Day one got off to a great start as grade four student Kara Tichbourne won gold in the Tyke Girls 1200m with a personal best time of 4:19.79 and Grade two student Charlotte Woodhouse took silver in the Mite Girls 400m. She also ran a personal best time of 1:26.96. Six other personal best times came from McKenna Karn (400m - 1:23.96), Sydney Martin (1200m - 4:42.86), Devlin Gillis (1200m - 4:30.86), Olivia Karn (1500m - 5:57.07), and Jamie MacCulloch (1500m - 5:40.60) and Georgie Reidle (400m - 1:14.44). Georgie was also on pace for a PB in her 1500m race but got mixed up on laps. She was 11 seconds ahead of pace, but stopped with 1 lap remaining. She then completed her last lap once she realized she had one more lap to go, but a lot of time was lost.
The second day of competition continued where we left off with a gold medal performance from Charlotte Woodhouse in the Mite Girls 800m as she cross the line in a personal best time of 3:13.53. Kara Tichbourne took her second gold in two days as she stopped the clock in the Tyke Girls 800m in a personal best time of 2:44.58. Personal best performances continued to flow in race after race as Coyote runners notched 13 personal best times out of 13 opportunities on day two.
"In total this indoor season, we collected 86 personal best performances in six different race competitions along with 12 medal performances, seven provincial championship medals, five provincial championship titles, and one international silver medal at the PanAM Cross Country Championships," said Coach Kevin Hooper. "All-in-all it was a very successful season. Our Coyotes should be very proud of themselves as they have battled a harsh winter and Ontario's finest and came away with tremendous improvements."
The team is now on a well deserved break. They will resume training on Saturday, April 4th as the entire team will join up in preparation for what should be an exciting Spring / Summer season of racing. For more information about the Meaford Coyotes Track Club, check out