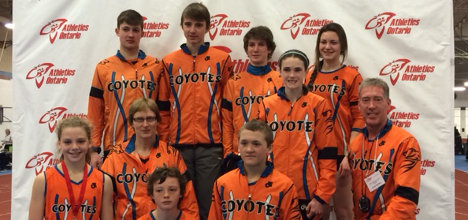 Eight members of the Meaford Coyotes Track Club made the trip to Toronto for the Athletics Ontario Indoor Track and Field Championships held at York University on March 7th an 8th.  Over 800 competitors were in attendance.
Day one brought one gold medal as Hannah Woodhouse posted the 2nd fasted Junior Women's time in Canada this year when she crossed the line in 4:37.82. Exceptional personal best performances posted as well.  Matalyn Lee knocked off 22 seconds from her previous best 1200m time as she placed 6th in the Bantam Girls race in 4:03.36.  Matthew Nickels shaved 19 seconds off his 1200m time as he stopped the clock in 4:09.19 in the Bantam Boys event.  Jake Clarke moved up an age group to the Junior Men's and posted a huge and long overdue personal best 1500m time of 4:38.84.
Day two continued on a high note as Matalyn Lee won her first ever provincial championship medal, taking bronze in the Bantam Girls 2000m.  Matthew Nickels continues to improve each race as he set another PB, crossing the line in 7:10.71 for the Bantam Boys 1200m event.  Both Sam Nusselder and Jake Clarke improved their 3000m times by 9 seconds and 8 seconds respectively with Sam finishing in 9:16.79 and Jake stopping the clock at 10:27.87.  Hannah Woodhouse won her second gold medal in two days and dropped her 3000m best time by 6 seconds to the 4th fastest Women's Junior time in Canada this year at 9:43.32.
"Overall it was a very rewarding weekend.  In 16 different opportunities, we had 3 medals and 8 personal best performances.  The final indoor meet of the season for the Coyotes is the Minor Track Association Provincial Indoor Championships for our grade 1-8 members on the March 21-22 weekend," said team Coach Kevin Hooper
Bantam Girls [2002 and later]
Matalyn Lee [02]
  1200m - 6th @ 4:03.36*
  2000m - 3rd @ 7:17.45
Bantam Boys [2002 and later]
Matthew Nickels [02]
  1200m - 15th @ 4:09.19*
  2000m - 9th @ 7:10.71*
Midget Boys [2000 and later]
Michael Ruest [00]
  1200m - 23rd @ 3:55.75
  2000m - 13th @ 6:54.22*
Junior Women [1996 and later]
Hannah Woodhouse [97]
  1500m - 1st @ 4:37.82
  3000m - 1st @ 9:43.32*
Jessie Nusselder [97]
  1500m - 15th @ 5:01.07
  3000m - 11th @ 10:53.02
Junior Men [1996 and later]
Sam Nusselder [99]
  1500m - 41st @ 4:24.91
   3000m - 12th @ 9:16.79*
Jake Clarke [99]
  1500m - 51st @ 4:38.84*
  3000m - 25th @ 10:27.87*
Alex Tulloch [99]
  3000m - 20th @ 9:49.29