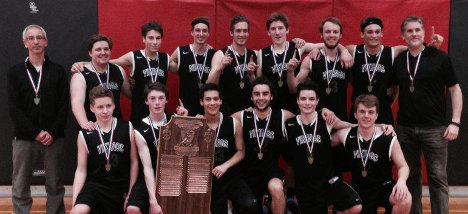 The Georgian Bay Secondary School senior boys basketball team captured the CWOSSA gold medal on Wednesday, February 25.
The game was tied with five seconds remaining when former track and cross-country running star, and recent basketball convert, centre Jared Ruest scored the go-ahead foul shot for the victory. The team travels to Windsor on March 8 to compete at the provincial 'A' level championships.
While the GBSS seniors were on their way to the gold medal, the junior team was also finding success. Under the coaching of community volunteer Adam Klein, the GBSS junior boys basketball team earned a silver medal at the CWSOSSA.