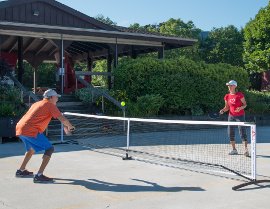 The Meaford Pickleball Club is offering what president Brian Bell considers a 'sweet deal' during unusual times.
Indoor courts at St. Vincent Community Centre and the 4th Canadian Training Division remain closed and, until late July, the only option was for members to use the pickleball courts at the Meaford tennis court on Eliza Street. But now the club has something special to offer in the way of outdoor courts at the Rotary Harbour Pavilion, with fabulous sunsets, reduced fees, and a chance for new players to try their hand at the sport.
The Meaford Pickleball Club was formed in September, 2019. "By March of 2020, we had nearly 100 paid members," Bell said. "This summer we have about 35 people signed up to play outdoors.
"We are trying to balance between honouring our current members and new players by letting people join as interim members for the summer. In the fall, we will know how many of our regular members will be returning, should there be indoor play, and how many spaces we will have for others to join. I suspect there will be some who will not wish to play indoors and so our membership will have some change-over.
"Our club executive established a COVID-adjusted club membership fee of $10 per person until December, 2020. Normal fees are $20 per member per year. Court fees before we finished in March were $4 per two-hour session and this summer the fee is $2. A pretty sweet deal, we think."
The club executive is thrilled with the pavilion courts. "We must say it is a glorious spot to use. As a club, we provided the materials and labour to lay down the court lines and we keep it clean as well."
Bell describes pickleball as a fun and friendly mix of tennis, badminton, and table tennis. "It is intergenerational," he said. "Grandparents can play with their grandchildren, yet it has a very high level of play. It is one of the fastest growing sports in North America."
Bell acknowledges the club's executive team, comprised of Greg Brown, Adele Lafond, Donna Lowe, and Kirsti Schwartz, who have helped him to form the club and keep it going. "They have served so faithfully in a variety of ways to launch the club and to make it such a wonderful success," he said.
Photo: Meaford Pickleball Club president Brian Bell and member Simona Freibergova on the club's summer courts at the Rotary Harbour Pavilion.