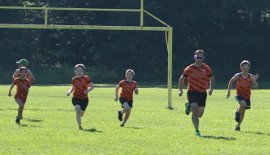 On July 22, it was announced by Kevin and Shelley Hooper, head coaches of the Georgian Bay Coyote Running Club, that the club would not be able to continue in light of COVID-19 and the inability to be adequately insured against infectious disease.
Over the past ten years the Coyote running club has become a staple in Meaford's sports community, with hundreds of local runners having been part of the club and hundreds more participating each year in its annual fall Cross Country race held at the GBCS track.
The Coyote running club has produced numerous provincial team championships, individual provincial champions, and one national junior champion. It has taught countless young athletes that hard work and determination go a long way, and has helped to shape, both mentally and physically, many young persons from Meaford and the surrounding area.
The loss of this program would truly be a loss for the community, as many have seen first-hand the community support behind this program, as witnessed most recently by the interest in the club's Trek across Canada over the past couple months.
For those who were part of the club, the realization of the club disbanding has been hard to accept and that is why Coach Steve Leary, who has been with the club since 2016, has decided to take up the mantel and continue the Georgian Bay Coyote running club once it is safe to do so again.
It will be hard to live up to the reputation, earned under the leadership of Kevin and Shelley Hooper, as of one of the premier youth running clubs in Ontario, and once the club resumes it may never reach that pinnacle again but without any program, the youth of this area may never even get the chance.
It will be a long road ahead of us, as it will be the summer of 2021, at the earliest, for the club to be able to train and compete again as a group.
While the COVID-19 pandemic is still a public health concern, the club will need to be on hiatus as the training protocols outlined by Athletics Canada, Athletics Ontario, and the Minor Track Association are strict, and it is not feasible for a small town club to continue to train and compete in the City. When the COVID-19 pandemic comes to a resolution or it is deemed safe by Public Health the club will begin again.
In an era where it is all too easy for the youth of our community to hook into technology and forget about an active lifestyle, it is more important than ever to build and continue these programs to offer our youth another option, one where they are challenged both mentally and physically to push through what they believe are their limits, to really see what they can accomplish through hard work and dedication.
Photo: Pictured here is a small group of devoted Coyotes completing their warm up with Coach Steve Leary. This was their final workout, a 1500m time trial, for Coach Kevin Hooper