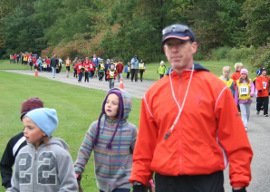 "After much thought, research, communication with other Coyote coaches and teams around the province, it is with much regret that the Coyote track program will come to an end, thanks to COVID-19," Georgian Bay Coyotes running club coach Kevin Hooper informed in a press released issued on July 22.
Hooper says that protocols from Athletics Canada, Athletics Ontario and Ontario Minor Track Association have been very strict with "returning to training" as they try to protect everyone involved from falling prey to the pandemic. The Coyote executive have been in discussion for some time trying to figure out how to best move forward.
A tentative plan was agreed upon last week to return to training in mid-August, but recent news from the Ontario Minor Track Association highlighted that no insurance coverage would be available for the athletes or coaches for infectious diseases or communicable diseases. This includes COVID-19.
"The Minor Track Association encompasses 95% of our athletes which are grade 8 and under," Hooper noted. "So if the program was to continue, all the Coyote coaches and executive would be held liable if someone was diagnosed and, heaven forbid, actually died from this bug. The insurance limitations included both competitions and team training and we have been advised not to continue without insurance coverage."
With all of their competitions being held around the Toronto, Niagara Falls, London, Kingston, and Windsor areas, the team would have an increased likelihood of contracting the virus and bringing it back to Meaford and Grey-Bruce.
The team has not met since early March and have been training solo during the pandemic, but recently completed our virtual Trans-Canada Trek in only 10 weeks. With the team not travelling to any competitions this Fall, the next round of competition would be the indoor season at York University.
"The indoor facility at York would have athletes and spectators crammed in like sardines, and would not be a good place to be," Hooper noted. "So assuming a vaccine might be available within the next year, the absolute earliest the team could meet with insurance coverage, would be the Spring of 2021. This has been an extremely difficult decision and much sleep has been lost over this."
If anyone is interested in purchasing any in-stock new official Coyote uniform apparel, including toques, jackets, short sleeve and long sleeve tees, racing singlets, shorts, tights, hoodies, neck guards, nylon back-pack bags, and Coyote socks, contact Coach Kevin at kevinhooper@rogers.com. Items are on sale for 50% off. There is limited supply.
"It has been a great run these last 10 years. We have produced a national junior champion representing Canada at the World Jr. Cross Country Championships, won numerous individual and team provincial championships titles and provincial medals, brought home countless personal best performances, and sent several high school Coyote graduates onto university to compete and excel at the varsity level. We have built long lasting relationships, great friends, and had the absolute best athletes, parents and coaches to work with over these last 10 years. Any head coach could not ask for more," Hooper offered.
Photo: Coyote head coach Kevin Hooper walks local athletes around the 1st annual Coyote Cross Country Race course in 2011 in our original Coyote orange jacket.