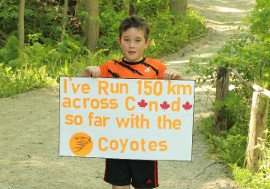 Nathan Leary, a grade 3 Meaford student, is the first Georgian Bay Coyote to reach the 'Distance Award' on their virtual Trans-Canada Trek. In just six weeks he has run 150 kilometres.
The Coyotes have established goals by age group for its runners during the virtual tans-Canada trek, and Leary was the first to reach the 150 kilometre goal for runners in grade four or under. The next goal for Leary and his age group is 500 kilometres.
Coyote runners in grades five through eight are targeting 300 kilometres for their first goal, and 600 kilometres for their second, while high school aged runners are striving to reach 500 kilometres as their first target, and 1,000 kilometres for their second.