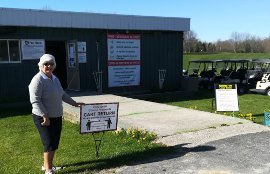 On May 21, 14 members of the Meaford Ladies 18 Hole Club began their 62nd season.
"With the COVID-19 precautions in place, there were no meetings, no coffee time together, no prizes. However, we were all so happy to be out on the course, on a beautiful day, apart but together. Social distancing was carefully observed but we could visit and catch up. The golf course is carefully sanitizing their carts and everyone is at a safe distance in the pro shop," said the club."
The club is looking forward to the season, whatever that will mean. To join them, contact the Meaford Golf and Country club, 519-538-1400.