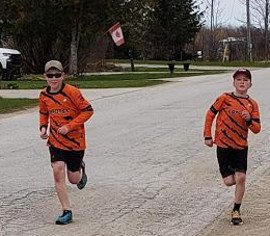 The Georgian Bay Coyotes continue their virtual Trans-Canada Trek across as they keep focused during the COVID-19 restrictions, and they have just completed week number four.
As a team, the Coyotes have been putting in solid workouts on their own and rapidly logging mileage. They arrived at their second stop in Montreal, which was a relatively short 919 km leg.
They continue into Ontario, heading to Toronto, north to Barrie, passing through Collingwood and Thornbury en route to Meaford for their third leg.
"This is a little skip of 706km. So it is possible to arrive 'home' this coming weekend," said team coach Kevin Hooper.
For more information on the team, check out their website at http://www.georgianbaycoyotes.com.
Photo: Georgian Bay Coyote members Wes and Avery Brown are among several Coyotes virtually working their way across Canada. Note the flag in the background. Oh Canada!