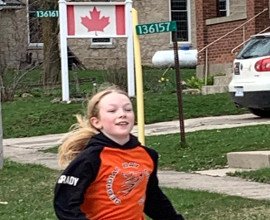 With the COVID-19 lock-down hampering group gatherings, the Georgian Bay Coyotes have been doing online workouts and logging their own mileage. To help team motivation, they began their virtual Trans-Canada Trek three weeks ago in St. John's, Nfld., with a goal of reaching Victoria, BC, by mid-August.
The team's first goal was Saint John, NB, which would cover 1,705 km, as they even ran across the Bay of Fundy instead of taking the ferry.
As a team, the Coyotes have been averaging between 600 km and 900 km each week so far and have easily landed in Saint John, NB, ahead of schedule. They have logged over 2,000 km to date.
Next stop is Montreal, PQ, as they head up to Riviere-du-Loup and through Quebec City. This second leg is 919 km in total. The Coyotes should reach Meaford by the end of May.
Photo: Georgian Bay Coyote Grade 5 member Rimyelle Grady is in full stride with the Canadian flag in the background, as she is one of several Coyotes virtually running across Canada.